Starlink's first African user reviews are in - here's how the service is faring
Author
Farai Mudzingwa
Staff Writer
posted 2 months ago
Whenever a new product or company launches and threatens a long-standing incumbent there is always euphoria. When Kwese Satellite TV was launched we were told DStv was done for. When AirBnB started gaining prominence we were told hotels are done for. StarLink has started rapidly expanding its service, and we have been told most African internet providers are done for.


As someone who has worked in media and seen trends come and go without displacing the status-quo, I have been wondering if Starlink will be any different and what the excitement is about.


In this article I won't explore what Starlink is because things will get too convoluted. Instead I will mostly focus i) on the hurdles the service has to overcome ii)african user reviews so far and iii) world wide user reviews thus far in order to have a clearer picture of how the service actually works in practice. All this is to try and figure out who the present Starlink customer is and what experience they can expect to get…


How do things stand at present?
Starlink's satellite internet service was officially launched in 2019 and the commercial service which is available to regular people came around in February of 2021 with a Starlink business service following in 2022. It's fair to say it's early days for Starlink and that perspective will be important when analysing Starlink and what they can or cannot deliver here and now.


Starlink's entry into Africa's internet market
Starlink's internet service has started creeping into our continent with 7 African countries now being licensed and the hype has been real. I feel that hype has been informed by simple factors:


The first such factor is Starlink's boss. You may have heard of him - he goes by the name of Elon Musk and has done some pretty cool things. He is the guy running the shows at electric car company Tesla, space company SpaceX & more recently started dabbling in the social media world after his acquisition of Twitter. The eccentric tech billionaire is a one-man marketing machine that tends to have the world pay attention to his ventures and naturally people are extremely excited about Starlink because of who is behind it.


The second and perhaps bigger factor is the state of Africa's internet market. Our market is lagging behind the rest of the world with an internet penetration of 40-45% (the global average is 66%). Africa being a poorer continent tends to lag behind the rest of the world in many things beyond the internet but we clearly have an access issue.


The combination of eccentric tech billionaire looking to solve the internet problem and a population on the continent that feels as though they are being ripped off by current internet service providers (ISPs) has led to Starlink being pitched as the company that will save African's from greedy ISPs:
Given this backdrop, I felt it would be interesting to analyse the experiences of African's who have already bought into the service since it started rolling out on the continent. I took to Twitter & YouTube to gather some insights on how those who have used the service have found it thus far. Most of the information I could find was from YouTubers in Nigeria but I also compared their findings from users outside Africa to see if there was common experiences.
Growing pains
Being that Starlink has only been operational for four years it's important to note that the company is in its infancy and this affects the kind of service they deliver. The biggest example of this I came across was customers complaining about the lack of technical support when things go wrong.
Going on reddit forums you can see that the customers are facing trouble resolving issues
when something goes wrong with their internet service: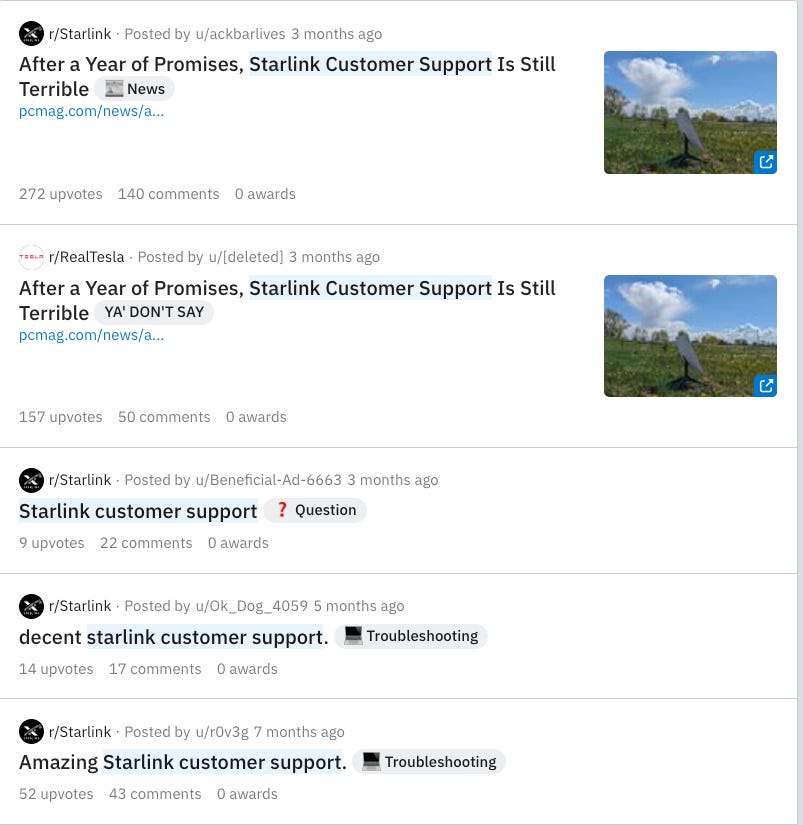 To make matters worse, Starlink hasn't setup physical offices in most of the African territories. Nigeria is a great example where the entire country reportedly has one Starlink office in Lagos. This means if a Nigerian customer in Abuja has a faulty device that needs repairing and they can't reach customer support they'll have to travel 700KMs to the nearest Starlink office.


If there is any fault would the Tanzania customer call the office in the US to ask for assistance?
-Tanzania Minister of Information, Communication, & Information Technology, Nape Nnauye


These are pretty simple requirements but because the Starlink hype machine is in full-throttle and Africans tend to be angry at their governments, no one is really willing to actually engage with their favourite tech entrepreneur being questioned.


What is clear so far is that if you use the Starlink service - the customer support you'll get will most likely be worse than whatever service you are currently using. This is fine if you understand that you're an early adopter of a new entrant in this space but if you expect that Starlink blows existing services away right now you might be disappointed.
Are African customers ready to pay?
This additional layer of friction will mean Starlink's initial customer base is among the people with these cards which tends to be a privileged few if Zimbabwe is anything like Nigeria.


In the event that you have the accounts to make the purchase there is another slight issue as the final price you end up paying is different from the one on the website. Nigerians learnt this the hard way when they realised that they had to buy the forex to fund their prepaid cards and the cost was different since Nigeria (similar to Zimbabwe) has a forex black market. The black market rate is different from the government's exchange rate making Starlink more expensive than anticipated.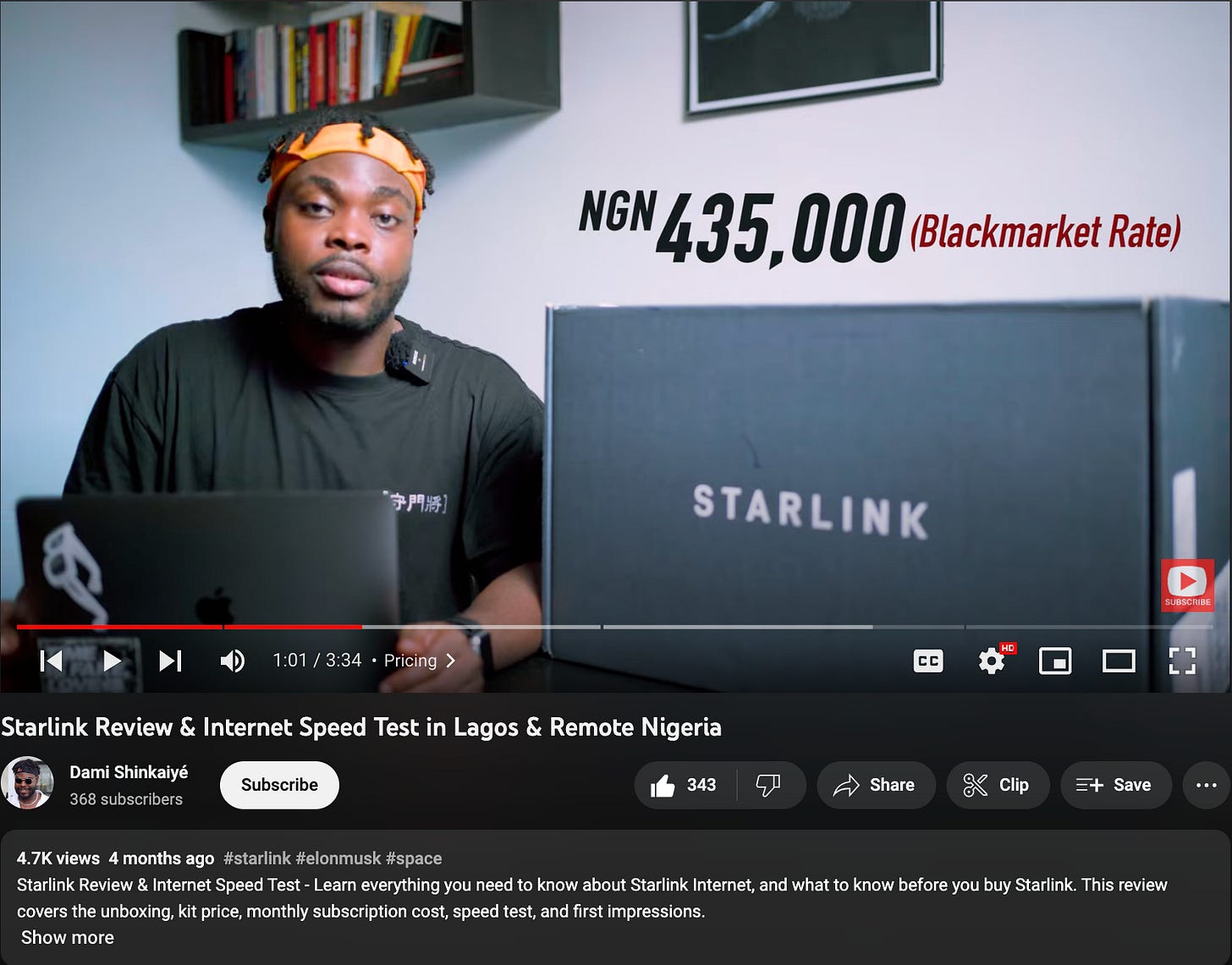 This is another instance where Starlink having offices in a country would help since people can then go 1) buy the hardware & 2) pay their monthly subscriptions at the rate listed on the website.


These are all issues that will probably be solved as the service matures but you'll need to tamper your expectations if you're getting the service this year.
An interesting development has been that Starlink resellers have started popping up - I even came across some in Zimbabwe.
If you're interested in getting the service but you don't want to go through the hassle of signing up ordering and paying you can get these third-party services to do the dirty work for you though that will increase the initial cost as these resellers sell the hardware at a profit since they are not acting as authorised resellers. Speaking of cost - let's explore that a bit more...
Price of entry
In order to start using the Starlink service you have to pay $600 upfront which will get you the hardware (router, dish, power cable & internet cable) and a month of free service. Subscription price is region-dependant but for the African countries it seems around $40-$50 is what you should expect to pay.


The subscription price is cheap considering that in many instances this has been unlimited data caps or limited to 1TB of use which is still a boatload of data. In Zimbabwe there aren't any ISPs that can compete with this subscription fee but the issue will be the $600 upfront fee for the hardware.
40 of the 54 countries in Africa have an average daily spend of less than $5/day
, meaning the average African would be spending 120 days of daily spend to get their hands on the hardware?
Price is the point at which most of the Nigerian YouTube reviews of Starlink came to the conclusion that the service might not be the mass market solution that will solve Africa's internet access problem right now.


"Promising but not yet the solution you're hoping for"
Naturally you may be wondering what some of the good Starlink use cases for Africa could be as it is?
Some positive strides
An interesting consideration is that even if the service doesn't work at its best right away the governments and institutions that move to adopt Starlink will get a lot of positive coverage in media as the overall stance on this issue has been that any government approving of licensing and adopting this service/technology is labelled as forward-thinking.


Will the marketing match the hype?
Of all the questions we've asked, this is the hardest one to answer. Elon Musk makes HUGE promises. Sometimes he delivers on them (think of Tesla) sometimes he doesn't (think of Tesla's self-driving tech).


In regards to Starlink, the US government also seems to have reservations regarding if the internet company can deliver its promises. Back in 2021 the US government's FCC (Federal Communications Commission) awarded Starlink US$885 million in aid but hit a u-turn a year later because they didn't feel they could justify funding a technology that would require a $600 satellite dish with taxpayer's money:


Starlink's technology has real promise. But the question before us was whether to publicly subsidize its still developing technology for consumer broadband — which requires that users purchase a $600 dish — with nearly $900 million in universal service funds until 2032
FCC Chairwoman Jessica Rosenworcel


I think that's the crux of the Starlink debacle. If the satellite internet company can deliver on their promise at the scale they seem to want to then a golden age of internet connectivity is on the horizon.


Get Updates
Stay up-to-date with the latest technology news and trends by joining our exclusive WhatsApp group! Get instant access to breaking news, insightful articles
TechNews